Description
*Vaporizer sold separately
41110 Wall Mount Anesthesia Machine
Bickford Anesthesia Machine-Wall Mount
Vapomatic™ Vaporizer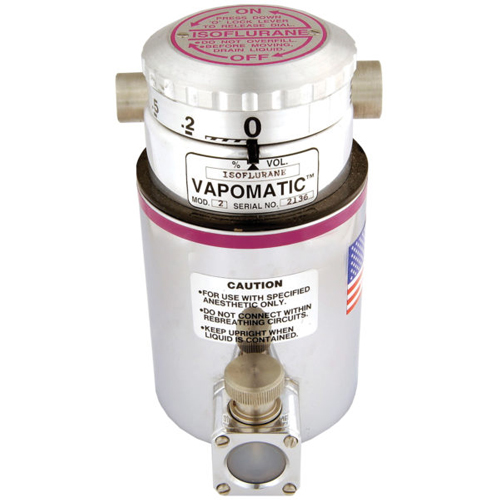 Temperature compensated.
Output concentration stable during assisted respiration pressure pulses.
Filler-drain-contents window combined in easy access single unit.
Large dial with easy to see numbers has "off" lock and calibration indents.
Dial Rotation: CW to decrease and "off" CCaW for "on" and increase.
"Off" Position locks to prevent accidental actuation of vaporizer.
When "Off", vaporizing chamber is isolated and gas is bypassed to outlet.
Tamperproof adjustments – dial seal must be broken for access.
Sump may be removed for cleaning or wick replacement without disturbing calibration by removing one screw.
Inlet and Outlet fittings are standard 23mm male & female tapers and are individually replaceable. Other connector options are available upon request.
Mounting holes in rear are interchangeable with other vaporizers.
Vapomatic™ Performance & Specifications
Range of gas flow rates: 0.1 to 10 liters/minute.
Range of ambient temperatures: 60°F to 90°F.
Range of anesthetic concentration: 0.5% vol.
Models available for Isoflurane or Sevoflurane.
Calibration accuracy: ±.1% concentration or ±10% of dial setting at calibration points.
Liquid capacity (dry): Approximately 200 ml.
Weight (dry): Approximately 7.5 lb.
BICKFORD Supersorber™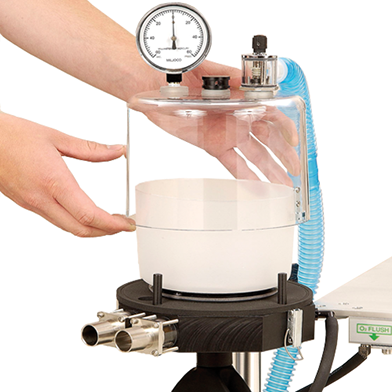 BICKFORD ANESTHESIA MACHINES are provided with the new SUPERSORBER™. This is a patented veterinary absorber design which discards the traditional "hospital type" absorber construction in favor of advanced engineering features that guarantees the highest degree of quality and performance for the veterinary practitioner.
FEATURES AND DESCRIPTION
BASE – A single base casting mounts all parts and makes all circuit connections.
CANISTER – A full size refillable canister is supplied. Also, any of the available pre-packs can be used. The canister or pre-pack is simply placed on the base gasket.
DOME – A transparent dome, similar to a bell jar, is placed over the canister and fastened with two easy-to-operate toggle latches, sealing it to the base gasket.
DIRECTIONAL VALVES – In the circle breathing system, are mounted side by side on the base casting and are axial flow, low resistance, flapper valve type having transparent housings for observing breathing activity and valve action.
PRESSURE RELIEF VALVE – or pop-off valve, is the Bickford PC-1 with swiveling scavenging outlet, and transparent housing.
PRESSURE MANOMETER GAUGE AND NEGATIVE PRESSURE RELIEF VALVE – Are mounted on the top of the transparent dome as is the pop-off valve.
BAG HOLDER – Is directly attached to the underside of the base casting so that the breathing bag is visible and easy to reach.